Meet Our Team!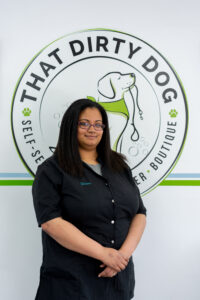 Quiana Casali courtesy of Catherine Liponis photography
Quiana Casali, Pet Stylist
Quiana has over 10 years of dog grooming experience. She earned her Certification in Professional Dog Grooming from the Massachusetts Academy of Canine Cosmetology – Newburyport, MA. She discovered her love of grooming pets while in high school at Essex North Shore Agricultural & Technical School in Danvers, MA and has been doing it ever since.  Her passion and love for animals truly shows when she works with her pet clients, which your pet will instantly know once they meet Quiana.
Please come in and meet Quiana who is happy to help you!
Cheryl Iodice, Founder and Owner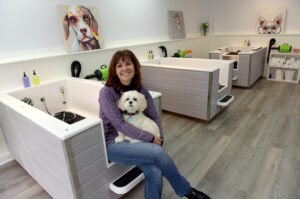 Cheryl Iodice and Cooper courtesy of TIM JEAN/Staff photo
Have you ever asked yourself "What job would I do if I could do anything?"  Well, I have asked myself that question many times over the years while working in a corporate job and answered it the same way – "own my own business or something to do with animals."   Being with my pets brings me untold happiness and I know that every other pet owner feels the same.
So, with this love of pets combined with my +25 year business career in the healthcare industry, I was inspired to  take this important step to follow my dream and combined my desires by opening my own full-service grooming and self-service dog wash salon.  I have since put my dedication to customer service, attention to detail, and ability to create and lead a highly skilled staff to work so we can provide the care that all our pet owners expect. 
Why North Andover/Andover?   Well, it is a place that I have a great affinity to because of my +100 year family history here and are two of the most pet friendly towns I know.  Over my entire life, Andover and North Andover have given me some of my most treasured memories – being with my family, going to the penny candy store in the old No. Andover center, taking our dogs for walks in the parks, and working in Andover for over 25 years.  So, it is really clear to me that this is where I want to continue this incredibly long relationship with the North Andover/Andover communities as part of this next chapter in my life!
I hope you'll come by with your pet loved one and let us pamper you – it's a great family experience!!